Our media product creations
BV l'Agence Objets Media offers creative solutions for all your needs!
Do you need an original message for a trade show, business convention or any other promotional event? Do you want to reward your employees during a team building exercise or training, or give a gift to your customers and prospects during a product launch?
Our promotional campaign consultants, true media product experts, will help you create your project. We will be happy to bring your ideas to life! If you are in Ile-de-France, visit our showroom to see and test some of our products. If you are further away, you can visit our website to discover our creations.
So, if you have a question, an inspiration or an idea. Do not hesitate to contact us!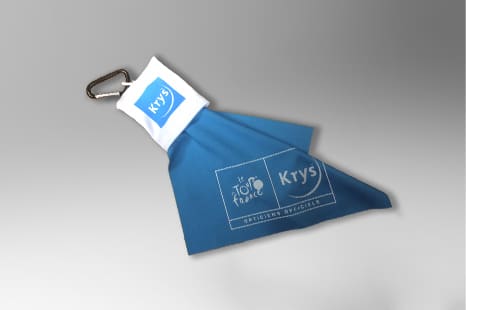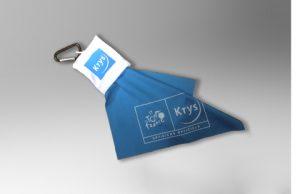 What KRYS needed:
KRYS called upon BV for advice on the choice of a promotional product to distribute as  part of a major sporting event.
The challenges KRYS was facing:
Various criteria had to be taken into acount. The promotional product had to be:
useful, reusable, lightweight, original, not too expensive, not require polybag packaging, and obviously, it had to be related to optics.
The KRYS brand had to be clearly visible and cover a large branding surface.
BV's solution:
KRYS and BV agreed on a promotional gift in the form of a personalized eyeglass cleaning cloth made of microfiber, in the brand's colors, with a screen-printed logo.
This unique personalized product can be folded up and transformed into an advertising keychain.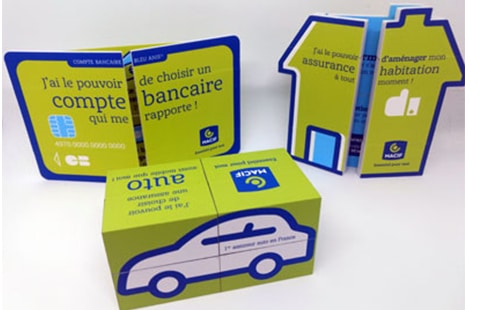 The need:
MACIF called upon BV to find a promotional item to highlight the three products provided by its agencies: Car Insurance / Home Insurance / Bank Accounts.
The challenges:
The product had to have a large surface area and be fully personalizable.
It had to be fun and original enough for their advisors to easily adopt it and to use it to explain the different products to their customers.
For complex products that require a lot of explanation, the points had to be highlighted and easy to read.
BV's solution:
BV offered MACIF a personalizable product in both form and in content: the MAGIC CUBE!
The Magic Cube is an attractive and addictive promotional product! Once you pick it up, you can't stop playing with it!
This product is ideal because of the various ways in which it allows MACIF's advisors to highlight the advantages of each product: the "Magic Container" for car insurance, the "Maison XL" for home insurance and the "giant credit card" for bank accounts.
The advisors immediately adopted the product and were able to use it as a sales tool during their appointments.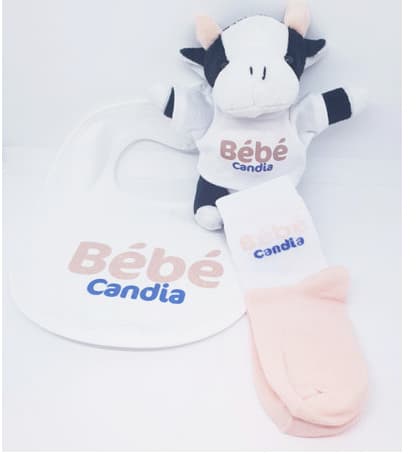 What Candia (the Sodiaal Group) needed:

The Sodiaal Group, distributor of the CANDIA brand, asked BV to find ideas for gifts for its employees who are young parents, in order to help them start their lives as parents. The goal was also to strengthen the feeling of identity with the brand.
The challenge:
BV needed to find quality products for newborns. These products had to be non-toxic and manufactured in accordance with the applicable standards. We had to offer products that would be useful from the moment the baby was born.
BV's solution:
BV proposed a small plush toy cow, a bib and a pair of tiny socks that displayed the CANDIA brand. These products are manufactured with high quality materials in compliance with current standards.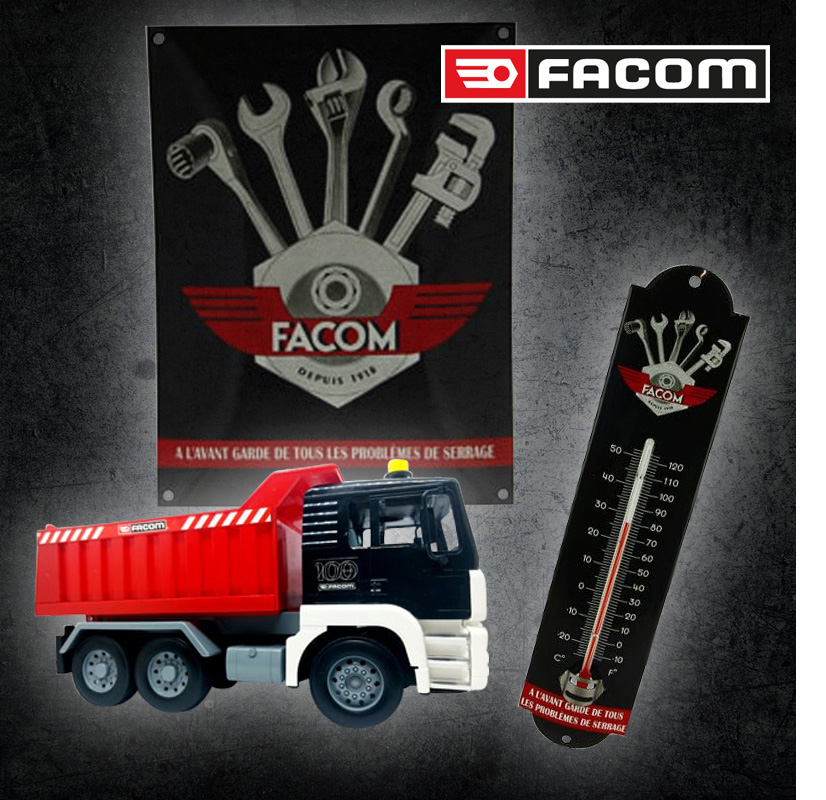 We help FACOM make marketing products for their customers.
Here are some of the products we have made for them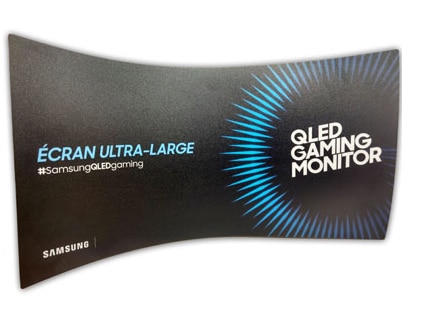 What Samsung needed:
Samsung wanted draw attention to the launch of their ultra large curved screen.
The challenge:
The goal was to find an original product, with an attractive surface for expressing Samsung's message and which fully reflected the "wide" aspect of the product.
The item had to be impressive and easily reusable.
BV's solution:
BV proposed this giant-sized curved mouse pad. Its customized original shape stands out and makes a lasting impression.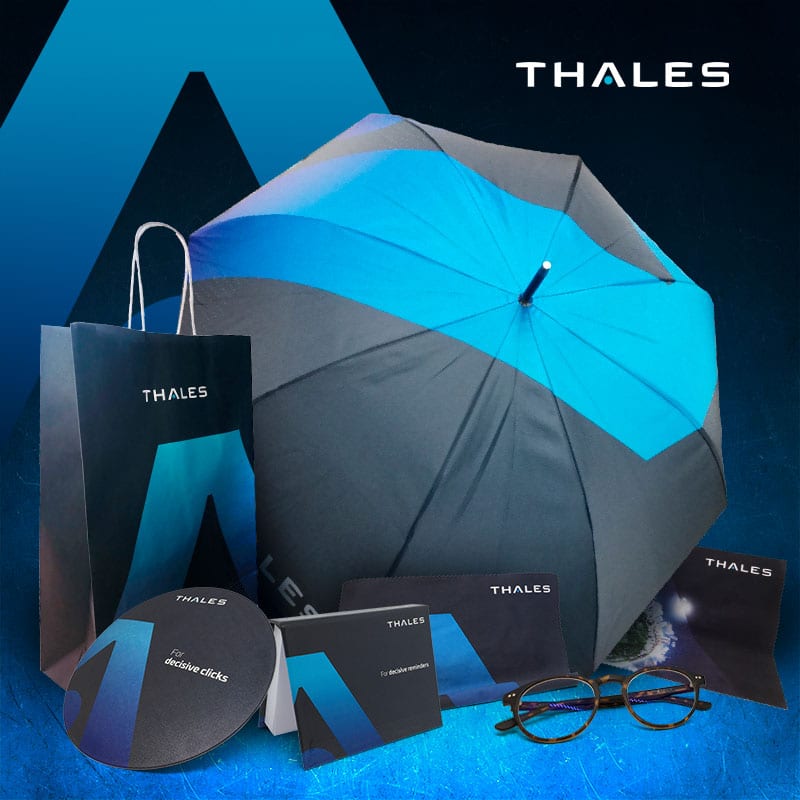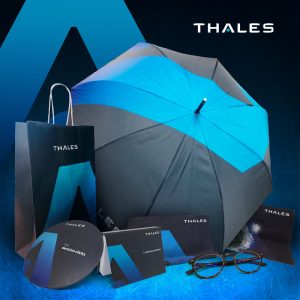 What Thales needed:
Thales, which has partnered with BV for many years, wanted to create a new range of personalized products in order to showcase their new image.
These products will be sold on the Thales online shop, developed by BV. The staff of Thales can use this shop to directly order various promotional products that have the Thales logo. BV manages the entire process from order to delivery and inventory management.
The challenges that Thales was facing:
The aim here was to create a unique Thales collection of high-quality personalized products for employees. The new Thales logo had to be clearly visible and featured on a large surface area of each product.
BV's solution:
Thales and BV agreed on a selection of five promotional products: an umbrella, a paper shopping bag, a mousepad, a notepad and a cleaning cloth for eyeglasses available in two different designs.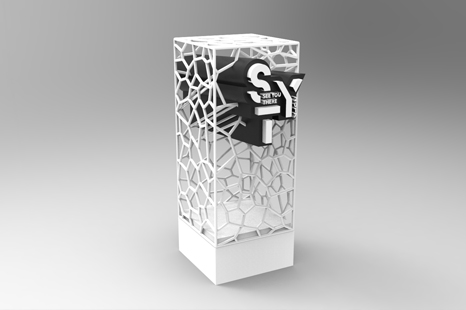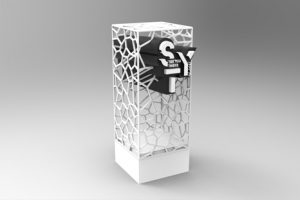 What SYT needed:
SYT had used standard glass personalized trophies for many years, but this time, our customer wanted to stand out by offering creative custom-made tropies to reward companies and schools that specialize in events:
– "Communication" award
– "Meeting Concept" award
– "Sustainable Development" award
– "Inspiration" award
– "School Bac+3" award
– "School Bac+5" award
The challenges SYT was facing:
It was necessary to design a trophy with a certain degree of lightness, while maintaining the aspect of quality. Being able to feel the weight of the award was still essential. The packaging of the personalized trophy was equally important, it had to protect the trophy, while at the same time conveying its full significance.
BV's solution:
After the design was created, BV made the personalized trophy with a 3D printer. The idea of lightness was made a reality thanks to the trophy's open meshwork construction, whose individual links represent the coordination of all the partners in organizing the event in question. The theme of the event was dynamically expressed, and is visible from all sides, in three dimensions.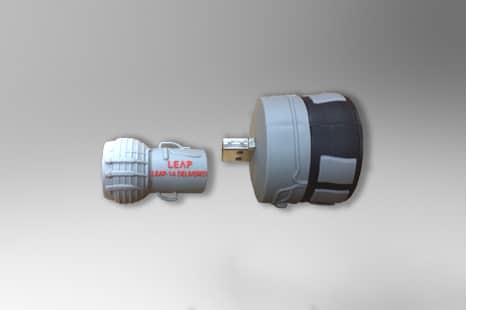 What LEAP needed:
SAFRAN (LEAP) was launching a new engine and wanted to make a promotional product for journalists.
The challenges that LEAP was facing:
The goal was to promote a new engine by using a functional personalized promotional product which was not too heavy and that could store information files.
BV's solution:
LEAP and BV chose to create a personalized USB stick in partitioned PVC, in the shape of the new motor, with the files that LEAP wanted to put on it.
Custom-made projects for Hydralin
The need:
The Hydralin brand wanted to offer original personalized items to promote their product and to offer gifts to their customers.
The challenges:
In order to modernize this paramedical brand's marketing strategy, these promotional products had to be original, colorful and fun.
BV's solution:
We designed a custom-made panty, small pouch and keyboard buttons.
Because they are so colorful, they stand out and offer a high level of brand recognition!
BV can also design completely custom-made and original projects for you, as part of your own unique marketing strategy!
What DPD needed:
DPD France asked BV to create a personalized gift box in the brand's colors, containing a range of products that represented DPD's business and operations.
The challenges DPD was facing:
The idea was to create a gift box to give to visitors to their sorting centers as a way to thank them for their visit. The box contains quality personalized products bearing DPD's brand image.
BV's solution:
DPD and BV agreed to create a gift box in DPD's colors, with DPD's logo displayed on a large surface area of the gift box.
This gift box contains four products bearing DPD's logo, including three custom-made products: a power bank shaped like a delivery truck, a USB stick shaped like a van, a Bluetooth speaker and a multi-tip charging cable.
BV produced the entire gift box, including the custom-made boxes, the products, assembly and foam.
For a better result, BV designed a custom foam pad for each product, which also allows the cables for the products to be neatly placed in the box.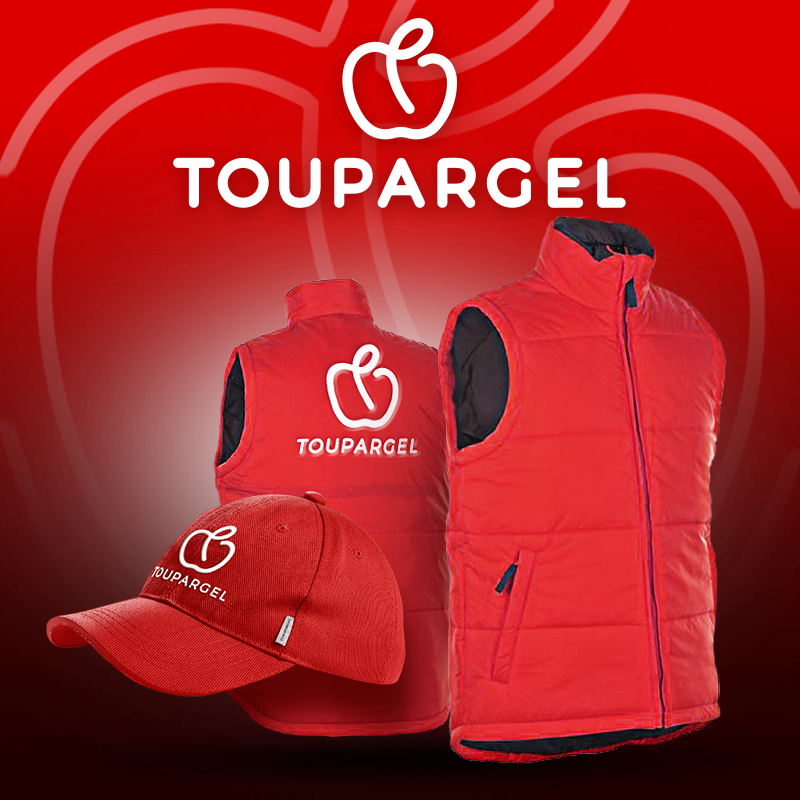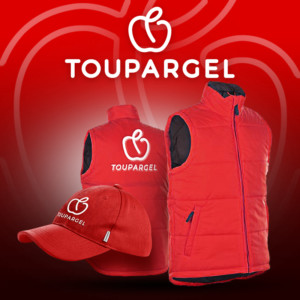 The need Toupargel:
Toupargel has launched a street marketing operation to increase its awareness and make the brand known.
The retailer called on BV to find the right textile for this operation.
The issues at stake are:
The objective was to provide both visible and warm textile products as the operation took place at the end of the year.
Choosing a custom textile requires a very good knowledge of suppliers, materials and technical specificities. There are indeed many models!
The brand had to be clearly visible and for all that the stewardesses had to be warm.
The BV solution:
The choice was made on a down jacket without a red sleeve as well as a cap.
The products were of quality and the operation was a real success!